Contact Serverless Solutions for a Free Regulatory Compliance Planning Session
Did you know regulatory compliance requirements are becoming more stringent depending on your operations and regional footprint? Engineering & Construction as well as Health, Safety and Environmental (HSE) groups are increasingly impacted by new and expanded compliance regulations.  These regulations necessitate  implementing policies and technology to transition from paper-based documents to digitized documents.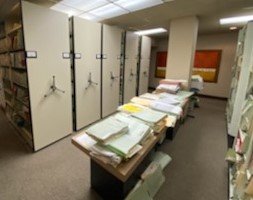 Does this look familiar?  How much office space are you using to store files that you aren't sure if you even need?  How many people at this location know where to find critical information if there is an audit or incident?
Serverless Solutions can help you
Understand compliance regulations pertinent to your locations and operations
Audit the current state of your records
Prepare the plan right for your organization to capture, store and access key content
Execute some or all of a Retention Policy plan that includes scanning, classification, entity extraction, retrieval, storage, destruction
Serverless Solutions provides turnkey projects to migrate paper and digital documents to a completely managed digital environment. We support oil and gas midstream and upstream organizations as well as engineering construction companies. We leverage modern Machine Learning (ML) tools combined with OCR and domain specific models and taxonomies to improve accuracy and minimize time, cost, and effort.
That is all a mouthful to say – we have domain specific models to accelerate your process and reduce cost. If you work in an industry that we do not have domain specific models for, we would be eager to invest our time and resources to show you how to develop your own.